Kang Yi Met with Delegation of Zimbabwe National Statistics Agency
On the morning of July 18, Kang Yi, Commissioner of the National Bureau of Statistics of China (NBS), met with Taguma Mahonde, Director General of the Zimbabwe National Statistics Agency (Zimstat), and his delegation in Beijing to exchange views on issues related to economic census.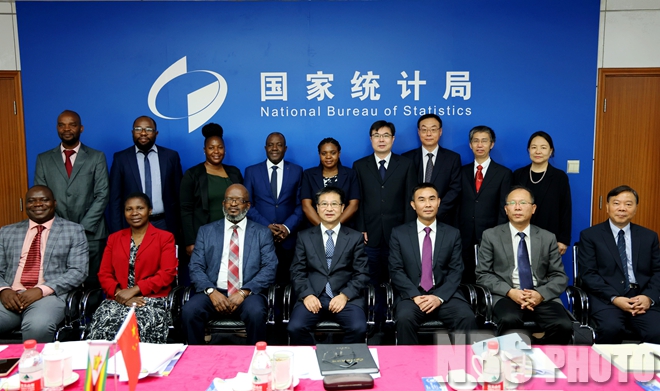 Kang Yi extended a warm welcome to the delegation led by DG Mahonde.The friendship between China and Zimbabwe has a long history and become even stronger as time goes by , said Kang Yi. Since the establishment of diplomatic relations in 1980, the two countries have witnessed continuously enhanced political mutual trust, further expanding pragmatic cooperation, and more profound friendship between the people. On this basis, it is necessary for statistical organizations of the two countries to carry out cooperation and exchanges. Kang Yi briefly introduced to DG Mahonde the development history and basic situation of the economic census in China, as well as the organization and implementation of the Fifth National Economic Census and corresponding innovative initiatives. The NBS is willing to actively share China's experience and practices in economic census with the Zimbabwean side, said Kang Yi.
Mahonde expressed sincere gratitude for the thoughtful arrangement of the NBS. On the basis of the in-depth development of the comprehensive strategic partnership between the two countries, statistical organizations of the two countries should further strengthen ties and deepen cooperation, said Mahonde. As China has abundant practical experience in conducting economic census, Mahonde hoped to learn from China's experience and practices in census organization, questionnaire design, field survey, etc. Through this visit, thus laying a good foundation for conducting the first economic census in Zimbabwe in 2024 at a higher level and with higher efficiency.
During this visit, the delegation of the Zimstat will exchange views on the design of economic census program, enumeration area demarcation , pilot census, data processing, information development and utilization, and personnel training with relevant professionals of the NBS and the Beijing Municipal Bureau of Statistics.